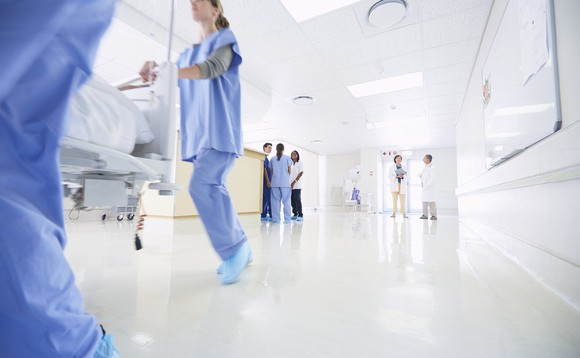 When it comes to addressing downtime threats in healthcare organizations, UPSs represent a required life-support system. A properly designed power protection solution helps hospitals, labs, imaging centres and other medical facilities provide exceptional patient care, protect hygienic environments, and securely perform tests and procedures. UPSs are also essential for maintaining continuous power in critical spaces such as surgical suites and intensive care units, where the consequences of power failures are potentially deadly.
UPS solutions help healthcare entities to protect against volatile utility power, ensure the safety and comfort of patients, avoid repeated tests, protect investments, keep data available, reduce overall costs and support backup generators.
From grid overdemand to aging infrastructure to the ever-escalating vengeance of Mother Nature, today's range of acute threats make it increasingly challenging for healthcare organizations to fulfil the basic requirement of supplying continuous, clean power. Even more, utility companies are unable to deliver the quality of power that is required by much of the industry's equipment, including sophisticated diagnostic imaging devices such as MRIs and CTs. Manufacturers of sensitive electronic medical equipment generally specify certain power requirements, such as eliminating electrical line noise and maintaining voltage within +10%. Devices that gather images tend to have even tighter voltage specifications of +2%.
From electronic medical records to sophisticated diagnostic machines, technology has revolutionized the landscape of patient healthcare. Yet growing threats to power quality make it challenging to assure reliable power at all times. If electricity is cut, it is essential that surgical equipment, life-support systems and other critical devices remain up and running.
During an imaging study, if power so much as blinks before the sequence is complete, it likely necessitates a repeat exam, which could result in repeated exposure to the patient. The cost and inconvenience of rescheduling patients is another potential pain point.
Considering that healthcare organizations are allocating substantial capital to cutting-edge medical technology; consistent power is essential to protecting that investment. Furthermore, with UPS protection, medical personnel can maintain compliance with regulations, and safeguard sophisticated equipment against power anomalies, downtime, repairs, and early replacement.
Healthcare facilities require continuous uptime in order to securely manage data. UPSs are instrumental in keeping electronic medical records and other data accessible, as well as helping facilities adhere to HIPAA privacy and security requirements.
UPSs not only increase a healthcare facility's operational efficiency and productivity, but they contribute to reduced operating costs as well. The upfront cost to purchase a UPS is much less than the long-term price tag associated with downtime. Not to mention the stress and burden of rescheduling patients, the cost of replacement parts and service needed to resolve issues, and the necessity of premature equipment replacement.
While hospitals and critical care facilities are required to install and maintain generators, the devices are not bulletproof, as a 2008 blackout at Asheville, N.C.'s Mission Hospital Memorial Campus demonstrates. Doctors and staff had to manually ventilate patients after generators failed. Both the National Fire Protection Association (NFPA) and National Electrical Code require emergency power restoration to healthcare and critical-care facilities within 10 seconds of an outage. Yet to prevent electrical interruptions, a UPS is needed to bridge the gap between utility failure and generator start-up. Even generator testing—which hospitals are required to perform regularly—can spark its own set of problems. For instance, when a 2011 power surge occurred during routine testing at Aspirus Wausau Hospital in Wisconsin, it cascaded into a computer system failure that shut down communication and access to medical records for more than five hours and forced ambulance crews to take patients elsewhere. In the most severe instance, after Hurricane Katrina struck New Orleans in 2005, approximately 215 patients died in hospitals and nursing homes, partially caused by generator failure.
Keep the power on with an Eaton backup solution. The portfolio offered by Eaton enables disruption-free power to maintain optimal patient care. With resilient, sustainable energy infrastructure to withstand power surges or outages, this reduces disruptions through a reliable emergency electrical power source that meets or exceeds life-safety code requirements. By installing this solution, you can have peace of mind that your mission-critical assets and infrastructure are protected. Eaton, your trusted advisor.
This post is funded by Eaton