Tech Data's UK boss has laid out the distribution heavyweight's net zero strategy, and wants to kickstart dialogue on who is responsible for carbon as IT products travel through the supply chain.
Talking to CRN, Dave Watts claimed Tech Data's UK & Ireland operations were "behind the curve" on carbon reduction but are "catching up" after completing an audit of its emissions and appointing an environmental director.
Moving its Basingstoke HQ to a more energy-efficient building and introducing an EV salary sacrifice scheme for employees are among the carbon-cutting actions it is about to take, Watts revealed.
US parent TD Synnex recently pledged to achieve net zero greenhouse gas emissions across its global operations by 2045 under the Science-Based Target initiative (SBTi) - regarded by many as a gold standard of environmental target setting and measurement.
But Tech Data's UK & Ireland arm will beat that target by a "long way", Watts promised.
"We were a little behind the curve for a company that has the values and impact that we have," he admitted.
"We've caught up a lot. We partnered early on with a company called Arete Zero Carbon to fast track our assessment of our carbon footprint, which was completed a few months ago. And at the same time we hired Kevin Wragg, who's our environmental director. Getting that expertise from a consultancy, and from an internal person focused on our assessment, has made a really difference. We have a complete grip on our carbon footprint now, from which we have started developing our sustainability plans," he explained.
"[SBTi] is an assessment you can't greenwash your way through," he added.
Chineham in your hands
With an Energy Performance Certificate rating of 'B' and BREEAM score of 'Very good', Tech Data's new Basingstoke office in Chineham Park is more eco-friendly than its current site. It boasts around a dozen EV chargers, with plans to have 20, Watts said, adding that its Bracknell office is also being refitted to make it more energy efficient.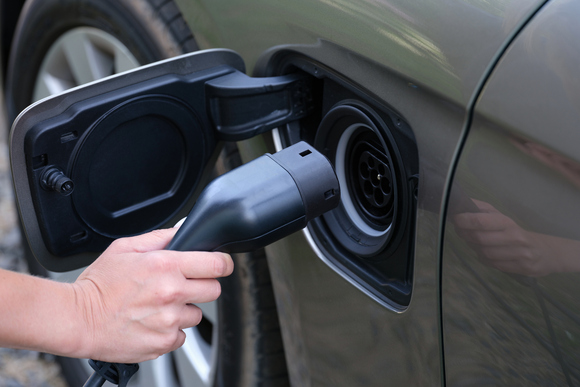 But Watts admitted that Tech Data's biggest challenge will be curbing the indirect emissions generated by its courier partners, who still largely use diesel vehicles to move kit around on its behalf.
The challenge is to not only pressurise couriers to electrify their fleets, but also to move away from the traditional "linear" distribution model that sees IT hardware typically travel through vendors, distributors and resellers before reaching the end user, Watts argued.
"If we line all our activity up in the right places, we should be able to cut out a couple of bits of journey there," he said.
"This is me just wondering out loud, but it may be that there has to be a charge for next-day delivery, because currently next-day delivery from distribution to reseller is standard - so it's not very efficient."
It is key for the channel to start "talking together", not only about how to make the supply chain more efficient, but also to agree on who is responsible for carbon emissions as kit travels through the supply chain, according to Watts.
"Who is responsible for the carbon as it goes through the delivery process and then through its lifecycle is a matter for discussion," he said. "There's common agreement on some things, but other things need to be clarified. Is there any way of uniting the channel around a certain set of standards and guidance that we could start driving as a community? I'm having conversations with partners about this, and you may see something come out of that."
'Flywheel effect'
The last 12 months has seen the UK's two largest IT solutions providers - Softcat and Computacenter - both set 2040 net zero supply chain goals, with the former labelling it a "monumental challenge". The duo are also both working with SBTi as they hone their plans (an overview of what 25 of the UK's top IT solutions providers are doing to tackle emissions can be viewed here).
But Watts said he believed a "flywheel effect" could help the industry achieve breakthrough change quicker than currently anticipated.
"Everyone's doing a really good job of putting a goal in place and it's really important to have goals and aspirations. I wouldn't be surprised if a lot of these larger partners - and us - beat the aspirations by quite a lot because we're publishing those aims at a point where we're all in a lot of discovery. We're getting this flywheel effect of these partnerships and everybody needing to make a difference - particularly in the UK due to the quite aggressive government aims of terms of net zero carbon," he said.