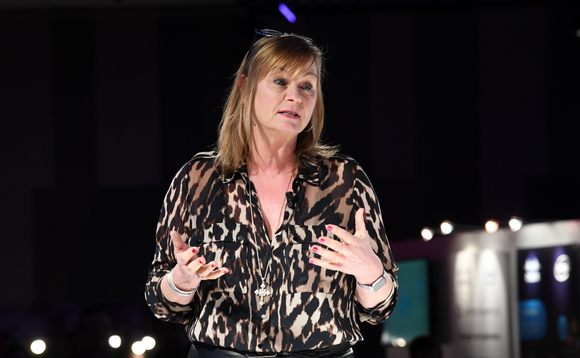 Cisco's UK partner event aims to take the spotlight off the vendor itself and shine it on a society in need of IT transformation. Published in partnership with Cisco
Twenty years ago it would have been unfathomable for a vendor to stand on stage at his own event and declare that it doesn't want to talk about technology.
But at the start of a new decade, that is the message being given to partners by Cisco.
Cisco doesn't want its partners talking about technology because, simply, customers don't want to.
The vendor staged its UK partner event at Vox Conference Centre in Birmingham at the end of last month, continuing themes that it had previously laid out at its global partner events in Las Vegas over recent years.
Cisco execs, including newly appointed UK and Ireland boss David Meads, told partners that, while conversations about technology obviously still need to happen with customers, they now take a backseat.
"When we talk to our customers, we don't need to be talking first and foremost about technology - that will happen at the right time with the right people," he said.
"What they are ultimately interested in is how you can help them."
The tone at the partner event was indicative of the change that Cisco as a whole has undergone over the last five or so years.
The vendor has, as the new chief exec explained, taken the focus away from its own technology and put it on what its technology can do for customers.
The shift to software and subscription models has, many partners say, made it easier to work with and opened it up to a wider channel audience.
Cisco's success is reflected in its share price, which has more than doubled over the last four years - during a period in which many of the world's largest vendors have struggled to adapt quickly enough.
Cisco's attempts to grow closer to partners have not gone unnoticed, with CCS Media managing director James Hardy revealing the change in how the vendor interacts with partners.
"If you asked me about Cisco engagement six or seven years ago, it would have been quite fraught and transactional," he said.
"The Cisco that has evolved over that period to become the Cisco that we are working with today is very open and inclusive.
"It's an organisation that really embraces transparency from the channel perspective, particular through Angela Whitty's leadership. You know that she actually cares about your business rather than just selling more Cisco, which is really important."
Hardy also acknowledged that Cisco now places the outcome for the customer above the use of its own technology, explaining that the vendor sees itself as part of an ultimate end result, rather than in isolation from other technology being used by a partner.
"They're getting to the point of understanding our value and unique selling proposition, which isn't specifically Cisco, but Cisco plays a component part," he said.
"That's really important and they now take an ecosystem approach to partnering. That's really valuable to the business we're doing now, but also to the business that we'll do in the future."
Cisco's shift in focus away from the technology itself was also evident in the format of the event.
Brief keynotes from Cisco execs took place at the beginning and end of the day but, generally, delegates were able to dip in and out of sessions using wireless headphones that could be tuned into which ever sessions they liked (think silent disco). The emphasis was more on networking with other partners and Cisco itself than on laborious, tech-heavy sessions.
SMB friendly
Cisco's software shift has coincided with an increased interest in the SMB market and therefore the partners that serve them.
At its partner event in Las Vegas last year, the vendor revealed a raft of new incentives to help SMB-focused partners, as well as smaller firms that cater for this market.
Jon Pickering, recently appointed CEO of Tiger Communications, said Cisco's heritage typically meant that SMB wasn't an especially lucrative market to play in, but added that this has started to change.
Pickering co-founded Cisco partner Block before departing in 2017.
"SMB is a key priority for Cisco now because it is such a huge part of the market, but it's one that was a relatively difficult place for them to play previously," he said.
"But as their technology has evolved they've been able to adapt their technology. In my own experience, 10 years ago it was difficult to make money there because you had to provide the customer with so much, but it's a lot more accessible now."
Clive Hailstone, CEO at Cisco distributor Comstor, meanwhile, said that the distie is seeing more partners offer the vendor's solutions to smaller customers, but cautioned against ignoring the so-called legacy business with which partners have typically seen success.
"Partners have to embrace the new technology and also be cognisant of the fact that some end users don't want to move at the same speed," he explained.
"Cisco and its partners want to find the end users that are willing to move at pace because they tend to be the ones that compete in the world."
Crisis management
Cisco's corporate responsibility causes were a theme that ran through the event, primarily around the work it does to help tackle homelessness.
The vendor looks to address the issue on a global scale, with CEO Chuck Robbins pledging $50m (£38.5m) in 2018 to end homelessness in Silicon Valley.
In the UK it works with charity Crisis, and partner boss Angela Whitty (pictured) put tackling the problem at the heart of the event, telling the story of a family friend with mental health issues who is struggling to receive the right support, because the different agencies involved do not communicate with each other effectively.
"Society is not joined up for a person who is in real need and surely that should be our challenge as a collective community," she said.
"If you play it back into our strategy, the things we talk about are really important. It starts with reimagining your applications. If there were an application that allowed people in healthcare to communicate with each other, wouldn't that be a great thing?
"But that would mean we need to have an infrastructure in place to support that, which the NHS doesn't have, and there is a challenge there that we as a group have to rise to.
"If we can empower the people in this room to build solutions like that, and build solutions that make our society a better place to be, that would be a great thing.
"And then empowering the people with the technology in the health sector to do things a bit differently. Right now it is very disparate because everyone is only thinking about their part of the world.
"It made me think of the importance of us all being good corporate citizens."
Cisco was joined at the event by Crisis campaigner Jane Furniss, who formed a relationship with Cisco through former UK boss Scot Gardner, who recently took on a global role.
Furniss told CRN that the technology industry has an important role to play in addressing homelessness, with the number of people sleeping rough in the UK having quadrupled over the last 10 years.
She said that one component of Cisco's work with the charity is holding workshops to help people learn how to work a computer.
She explained that it is increasingly difficult for disadvantaged people to survive in the UK without basic IT skills, highlighting, for example, that access to the Jobcentre's services requires the use of a computer.
"What Cisco is really trying to do is use technology to tackle services for homeless people and work out what would help them get access to services and training using technology," she said.
"A lot of them have been excluded from learning how to use technology because of their circumstances, but then they can't sign on for benefits or register for employment."
Furniss also said that the tech industry can help charities better collect and utilise the data at their disposal. Cisco's Whitty had earlier told CRN that the vendor was exploring whether it could help build a system that would give Crisis visibility of the people coming to the charity, so it knows what supplies it needs to provide.
"A lot of voluntary sector organisations don't have the capacity to mine and use their data intelligently," she said.
"I think Crisis is one of the better ones - it has invested in research - but a lot more could be done with the help and skills of people in the IT industry."
This article was published in partnership with Cisco