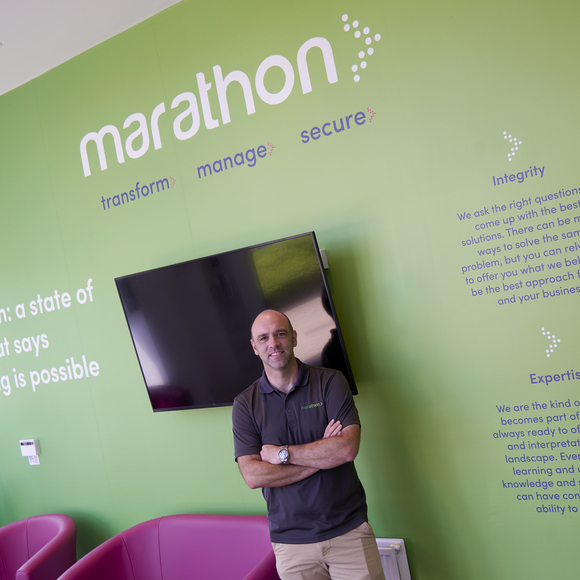 In our 2021 'Meet the Shortlisters' series, Marathon's CEO Iain Maclean (pictured), talks about his firm's amazing growth spurt during the most challenging of times, how they maintained a fun and close-knit company culture throughout the pandemic, and what being shortlisted for CRN's Rising Star Award means to the whole team
What would you say is your company's proudest achievement over the past year?
It's been a banner year for Marathon by whichever measure you use. In the last 12 months we have quadrupled the company in terms of turnover and more than doubled in terms of staff, to do that against the backdrop of a global pandemic is something we're tremendously proud of.
To get to this point though there are lots of building blocks we have put in place, each one of them is something we are proud of. For example, we achieved Microsoft Gold partner and Microsoft Co Sell partner status, and ISO 27001 companywide (rather than just a part of the business), and started to take on apprentices as part of our workforce - anyone who has completed these processes will tell you that they require a great deal of effort and collaboration in an organisation.
What have been some of the main challenges of 2021 and how have you overcome them? How have your own people/teams helped with that?
Company culture has been something we have been thinking about a lot this year. We were conscious that we were growing quickly, and we wanted to make sure that we maintained the heart and soul of the company and didn't dilute or lose that in any way.
As a company, all of our employees are accustomed to working virtually or course, but it is a different proposition when you have lots of new people joining in a short time frame and they don't get to spend any in person time with their team. It is easy to pass on the factual elements of a job, but how do we make everyone feel like part of the same team?
Luckily, our team have been incredible at making new team members feel like they are part of something exciting - creating their own awards, football sweepstakes and on and offline social gatherings - you can't manufacture that kind of team spirit and in a service based business it is part of what separates the great companies from the good ones.
We have focused on communication to try to make sure people feel engaged and supported, and while some companies have been talking about downsizing office space, we went in the opposite direction and have created a new flagship office. Patterns of work are shifting but having space to collaborate and work together feels really important to us right now.
How have you managed to stay close to your customers during the pandemic?
The pandemic has had such varied impacts on our customers, as it has on individuals:
As our name suggests, Marathon's roots are in live sporting event IT management, running some of the world's largest and highest profile mass participation events. Of course, these events have been cancelled and postponed, or run virtually, so their needs have shifted vastly, and we have had to be fleet of foot to adapt to them.
Then, we have other customers who needed to ramp up quickly; one of our existing customers won a contract to run call centres for the vaccine roll out programme. A hugely important piece of work that meant standing up 500 users in two weeks, with security as a top priority.
And we had some customers with projects that largely ran as planned, like a global retail brand we were helping to split away from their parent company, requiring an entirely new infrastructure of their own.
As you would expect we have been communicating regularly with customers and responding to the changes in their businesses, trying to pre-empt their needs and propose solutions to the curve balls that they are dealing with themselves.
What does it mean to be recognised for the shortlist/an award?
Growing the business has been really exciting, but you can't shy away from the fact that it is pretty exhausting for everyone; the extra hours required in bringing new people up to speed, moving offices, and all while making sure that customers are still at the forefront. Every member of the team has played their part in making it happen, and it's important to have those moments where you take stock, look back and feel proud. Being shortlisted means a lot to us because the entire team is being publicly recognised in our industry for all they have achieved.
How do you think the industry has changed since last year and what lessons do you think it has learned?
We're an industry well used to working in partnership with clients, there's no other way to be an MSP, but I have definitely seen our role growing increasingly upstream as companies look to make strategic decisions about the future of work in their organisations, helping them to take the decisions that will impact their workforces.
Outside of the pandemic, one of the changes we are making at Marathon is bringing in apprentices in both technical functions as well as in Sales and Marketing. Apprenticeships have moved on so much and there is support available to help firms bring them on board. It is a great way to introduce new talent and increase diversity in our industry, attracting people who might not have considered a career in IT before.
What has been your firm's biggest takeaway from the past two years?
For Marathon I think it is about how much more you can achieve when you partner closely with your clients. We know that we are a critical success factor for our customers in what they want to achieve - whether it is the reliability and precision of running the IT for a large race, or the ability to help a customer win new business because of the strength of our security offering, and that has been made even more apparent to us by the challenges of the pandemic when customers were needing to pivot and do things differently with no warning.
What do you see as the main opportunities for your firm in the coming year?
Over the past two years we have built up successful blueprint methodologies that we are able to tailor to new customers, applying the knowledge we have to other business challenges.
We are leading the way with some of the things we have been doing - like pioneering Microsoft Sentinel as a Service and managing the first largescale international roll out of Windows Virtual Desktop to name just two. I think our approach of integrating new Microsoft capabilities with managed services wrapped around them is helping us to win as we know that we can help customers reap the maximum benefits from the tools they are adopting.