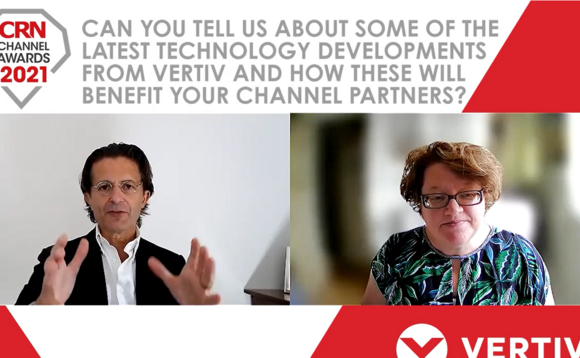 What have been Vertiv's main challenges and achievements over the past year during the pandemic?
It has been a dramatic 18 months for the world, we will never forget that. But it has also been a very transformational time for our industry. Despite this dramatic shift to digital, the infrastructure held, and the world kept on spinning.
We probably saw 10 years' worth of digital transformation happen in 18 months.
Vertiv has done a lot of things in that time - 18 months ago we went public, trading on the New York Stock Exchange, which was big for us. We have also worked hard to support our customers during the pandemic, being there to support our clients' infrastructure.
This year has also seen more focus on sustainability issues and we believe they are a very important part of the shift.
We also announced our first acquisition as a public company - E&I Engineering Group - a provider of power distribution systems, which will enable Vertiv to offer the entire power train portfolio and deliver fantastic opportunities to our customers and partners.
We have also increased innovation internally - launching more than 20 new products, and new technologies and tools for our channel partners. We are moving very fast in a fast-moving industry.
Can you tell us about some of the latest technology developments from Vertiv and how these will benefit your channel partners?
We are a leader in racks, UPS, KVM and cooling, so we build on this position and ensure it is as strong as it can be. In terms of partner enablement, everything is around the integrated solution - we are enhancing everything around that to give our resellers rapidly deployable, easy-to-configure, fully factory-integrated solutions that range from integrated racks/rows, all the way to outdoor edge computing applications. We see the acceleration of deployment of edge and the success of our partners is not just in their ability in providing servers, storage and networking, but the rapidly deployable infrastructure around that.
This gives them the opportunity to expand their scope of operation beyond IT and increase their parameter of revenue and profit.
We are about to launch some state-of-the-art tools and solutions and I can't say too much now, but I definitely advise resellers to stay tuned. Big things are coming.
How has Vertiv invested in and developed its channel programme over the past year? What have been some of the key changes?
The channel is increasingly central to our strategy. We see more and more distributed infrastructure being deployed. The speed of that is only going to increase and we need to partner very closely with resellers.
In March this year, we announced additional investment in tools, people, programmes, new portals for our partners - all the tools were there before but were not as advanced as they are now.
I now have two hats, one as president of the EMEA business as a whole and the other coordinating the global channel effort. We have decided that channel is not just about having lots of products and solutions, but about having industry leading programmes and tools.
To have that we ensure they are developed at a global level, harvesting our global experience, but they are deployed locally. We make sure our world-class tools are translated into very local and individual partner activity, both in a technical and commercial way.
In the last year, because of the new programmes we launched in EMEA, such as VIP+ with reduced entry barriers and higher returns, we have increased our partner base tenfold. It's still the beginning, but it's an exciting beginning and an acceleration of our channel journey.
What are the key trends you are seeing in the market at the moment and how can you help your partners capitalise on these opportunities?
Digitisation has created a proliferation of key trends. Of course, there are key trends like cybersecurity, but concentrating for now on trends that are relevant from an infrastructure standpoint, we are seeing digitisation of Point of Sale (PoS) as a very dominant trend.
We have worked with prominent retailers and PoS digitisation has two key requirements - one on efficiency of inventory control, the efficacy of PoS - but the other is about enhancement of the customer experience. The two elements cannot be disconnected. For that to happen the very PoS needs to have an intensity of digital infrastructure that is 100%.
Again, digital infrastructure is not just about the IT equipment, but everything around it - the power, the enclosure, the cooling - everything that enables the IT part.
Another key theme is everything 5G and about how the infrastructure will be distributed and deployed. The channel is uniquely well-positioned in this space.
Sustainability is a big focus for CRN this year, what steps are Vertiv taking to address sustainability and how important an issue is this to you?
It is amazing and reassuring how rapidly sustainability has become central in the agenda of the industry. Our industry is uniquely positioned not just to become sustainable in itself - but also as a tremendous enabler for sustainability of the global economy.
For us, this is not only a prerequisite for doing business but a key part of our market differentiation. Everything we do in terms of innovation and development is done with sustainability in mind.
Successful transformation of the industry will require big orchestration among players, from government to industry players, large institutions all the way to the end user.
One of the things we are doing is becoming active in associations that are driving the agenda. For example, Vertiv became a lead sponsor in the Sustainable Digital Infrastructure Alliance - to help drive a climate-neutral digital economy by 2030.
The Channel has a big role in digital transformation towards a more sustainable digital infrastructure - so I invite all resellers to partner with us to help drive that agenda.
What new challenges do you think our industry will face over the coming year?
The market remains favourable - we know some challenges will arise from the speed of the market growth. Digitalisation is becoming ubiquitous - and achieving almost a utility status.
The world will become more demanding in terms of solutions - generic technology might not cut it - we need partners that are vertical specialists. We are developing solutions that are focused on individual market needs.
The speed of the deployment can create capacity challenges in the channel - sometimes talent challenges - but these are all things that this industry can overcome. It is a very resilient industry.
The very nature of the channel with an enormous amount of players means some consolidation will occur - but the very structure of the channel creates that resilience.
More than challenges I'd like to talk about opportunities - those are digitalisation, sustainability, the energy transition and certainly everything that is edge deployment. We are really looking forward to addressing all these with our channel partners.
To see the full video Q&A on Channelweb, click here.