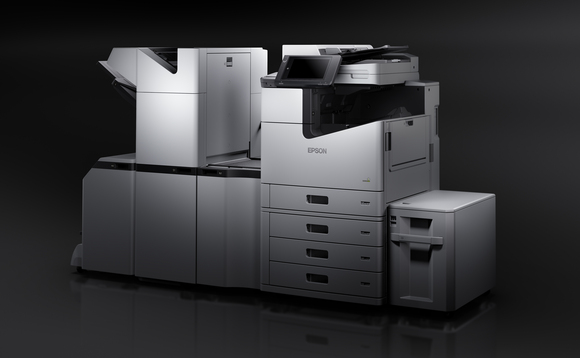 Laser and inkjet printers may look the same on the outside, but the technology within provides a clear business case for heat-free inkjet printing.
While inkjet printing may have traditionally been associated more with industrial settings, the key features of the technology make it a good fit for the workplace environment, for both large businesses and small offices.
For organisations, making the process of printing as simple as possible for end users is key. This involves reducing the risk that something will go wrong, as downtime is not only costly in terms of resolving issues and replacing parts, but also in terms of productivity.
According to a study by Gartner, up to 50% of IT help desk calls are printer-related, meaning if printers are not functioning correctly, a significant number of man hours are spent resolving issues, affecting IT teams' productivity and disrupting employees as a whole.
Laser printers typically have more consumables and therefore require the periodic replacement of parts such as the drum, transfer belt and fuser. Fewer parts mean that there is less scope for things to go wrong, and Epson inkjet printers contain fewer elements that need replacing than in a laser printer.
The heat-free structure of Epson inkjet printers means that there are also fewer parts that can fail, which reduces the amount of intervention required. As a result, Epson inkjet printers offer reliability and significantly reduced downtime.
Furthermore, inkjet cartridges offer a higher yield, meaning they need to be replaced less often.
The printing process itself is also faster when using an inkjet printer, with the process of receiving a print job, ink injection and print out quick and simple when compared with the laser printing process, which involves a higher number of steps.
Epson's Heat-Free Technology does not need to warm up when it is switched on or awoken from sleep. This means that users can start printing immediately. Laser printers need to preheat the fuser to print, meaning it takes longer for them to be ready to be used. High-speed printing means that employees spend less time waiting for documents to be ready, improving productivity and efficiency. In fact, heat-free printers offer 50% faster from ready compared to laser printers.
While HP may have recently announced its exit from the business inkjet market, these factors mean that Epson is confident that inkjet technology is well-positioned to serve today's office environment.
"Our award-winning inkjet technology is not the same as HP's and while they have withdrawn from the business inkjet market in favour of laser, we will continue to support the advantages offered by our proprietary heat-free Precision Core piezo inkjet technology. HP's withdrawal from the market is of huge advantage to us and offers growth potential for both Epson and our channel partners," said Rob Clark, Senior Vice President of Epson Europe.
"HP's withdrawal from the business inkjet market would indicate that their technology is not viable in this market. We however remain 100% confident and committed to our Precision Core Heat-free technology, and to our channel partners."
Overall, it is vitally important for channel partners to communicate the business case for heat-free printing. Not only does inkjet heat-free printing offer a more environmentally friendly alternative to laser, it is also more economical and reliable.