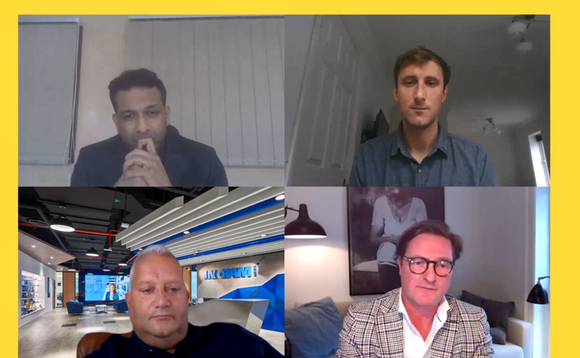 Representatives from Vertiv, Ingram Micro and Smartworld joined CRN to discuss how the channel can 'Keep IT Running' as their customers navigate post-Covid and sustainability challenges
Channel execs came together for Vertiv's annual channel summit to discuss how the IT channel can "Keep IT Running" as customers grapple with post-Covid challenges to their business.
Top of everyone's mind during the discussion was how sustainability is becoming a major issue and influencing decision making for the channel's customers.
'Every sector now demands sustainability for IT projects'
Sustainability has become a "pre-requisite" for customers as they choose partners for datacentre projects, according to Karsten Winther VP of EMEA sales for Vertiv.
"Almost in every sector we're seeing an increased need for sustainable projects, whether that's components or the roll out of projects, or the management of sites, or even the devices we're manufacturing. We're seeing it, and it's the only way forward. The amount of power we're consuming here, the world will not survive of we don't come up with new ways of supplying renewable energies and repurposing technologies and bringing new ways to cool datacentres."
"In Vertiv we see it everywhere. It's not just the big hyperscalers or government sectors anymore," he added.
Meanwhile, Jithin Asokan, projects manager at systems integrator Smartworld, added that the reusability of existing infrastructure has become a central focus for customers, and topics such as energy management and optimisation, which weren't talked about three years ago, are now important aspects to datacentre projects.
"Even when we're doing datacentre designs, one of the first things they ask is about energy optimisation. Previously it was not something we were looking at much. There was no energy saving concept but now that's changing. There's a lot of drive to have this energy saving as part of the package."
Innovations such as "smart cabinets", which have built-in AC cooling and monitoring, are helping Smartworld to deliver on sustainability, Asokan added.
Julian Thompson, senior director of advanced solutions sales at Ingram Micro, added that, from his perspective, certain luxuries such as "just-in-time" shipping needs to be drastically reduced in order for the sector to become more sustainable.
"Very simply from a manufacturing standpoint we need to move away from the just in time fulfilment. Because that means air travel. If we can put that onto the seas, I know that's a 12-week lead time, but there's instantly an improvement. Understanding the demands and planning better and taking out the need for an express delivery and getting more of it by sea freight will have a benefit."
Thompson added that he sees "a lot of good intention" in the industry, but said there needs to be a coordinated effort across the supply chain to make a real difference.
"There needs to be an idea of what will have the biggest impact and then collectively work those through to help. There's a lot to be done, and that supply chain is absolutely critical. Because it is eye-watering how much power and energy that's used because we've become a just-in-time system over the last 15-20 years. But maybe there needs to be a great change in that."
Looking ahead to 2022 and beyond, panellists agreed that partners need make some difficult decisions now about what role they want to play in the IT channel.
Some will be able to continue to find success as transactional resellers, fulfilling a procurement role for their customers, but others will have to look at ways to build new capabilities in order to remain successful.
"We are focussing a lot on digital transformation," said Asokan. "We're getting our team completely up to speed on what the new technologies are, so whenever a customer comes to us we can explain to them what are the latest technologies and how they can use them to reduce costs. We're also doing a lot of automation capabilities using AI and machine learning."
Thompson concluded by suggesting that partners will have to ask themselves what part they intend to play in the wider channel ecosystem.
"It's about understanding your part in how you can bring them value," he said. "Value is a great word, but it only means something to the person your providing it to if they find it valuable. We prefer the word capability. We have a lot of capabilities - if our partners see them as value, then fantastic, and we can build on that.
"I think undoubtedly there will be a whole heap of transactional business that is done. It is how the world has worked and is how it will continue to work. Then there will be those partners that will invest more into trying to build capabilities that enable them to give the end user partners the forward looking support that's going to be needed."
"It's about understanding what part they need to play, what they can do, and how they can plan for that future," he said.
This panel was aired on 17 November as part of Vertiv's Annual Channel Summit and Awards. The summit featured guest speakers from Canalys, CRN, Canva, Ingram, Softworld and Dell Technologies who were joined by industry peers and product experts.
Click here to watch the session on-demand.