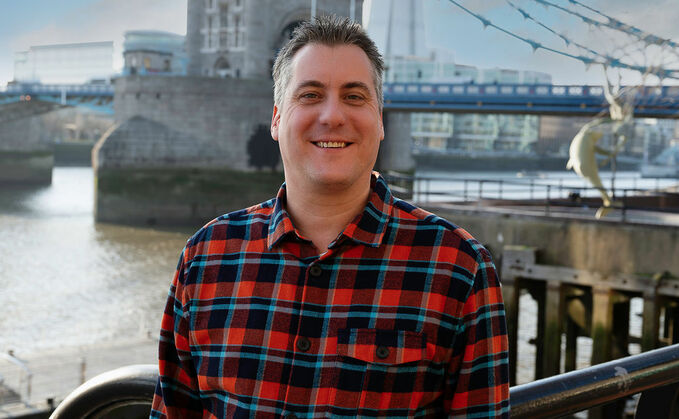 In the first of this 'Meet the Shortlisters' series for the 2022 Sales and Marketing Awards (SMAs), CRN catches up with Logicalis' UK&I CEO Alex Louth (pictured), to discuss the 'great resignation' and how all businesses need to adapt to cater for employees' changing priorities. Logicalis is shortlisted in the Best Company to Work for (Sub £100m) category.
How has your business evolved over the past year? Has the pandemic changed how you plan for the future and how you view and execute sales & marketing strategies?
One of the benefits of the last two years is the greater awareness of the need for the traditional ways of working to be completely overhauled. Long gone are the days of employees sitting at a desk, in an office 9-5. Over the past year, the business landscape has completely shifted. Employees now put themselves first, wanting a better work life balance. They want to be able to spend time with family, perusing hobbies, and passions outside their roles and working to their own schedules to accommodate family or personal timelines.
As a result of this, business leaders have needed to rapidly reinvent their workplaces to accommodate this shift, keep top talent and keep up with competitors. Now, as we are now in a period of reflection of the previous 24 months, businesses are having to implement several initiatives to help them adapt and respond to any further future disruptions. We are looking to our customers, partners, industry peers and employees to understand what worked, how we can be better and what they need from us to succeed.
With many firms insisting staff return to the office for at least part of the week since the pandemic ended, how is your company operating in 2022? Is it a mix of homeworking and office working? Or fully office based?
The pandemic has changed employees' priorities and a 'one-size fits all' approach to the workplace is no longer adequate. People want employers who align with their beliefs and offer flexible working. We've listened to our staff, reacting quickly to ensure we keep them happy. We have redesigned our workplace in-line with post-pandemic views and use.
We know remote working is here to stay - and the office has evolved with the changes to the way we work. At Logicalis, we know the traditional office still has a role to play, from incidental moments of conversation, to planned collaboration and idea generation. Bringing people together in person can provide those important touchpoints that are not always easily accessible through remote work. As we adopt a true hybrid model the office will go through a similar evolution.
The office will be there to provide focus time to employees for collaboration, to form company culture, and to provide a location for events. The time away from the office will allow our team to focus on the administrative tasks we all have to do, and provide a focused environment to complete work.
As business leaders, we need to make sure we harness our employee's potential and encourage them to thrive. That is why we have significantly focused on creating an innovative hybrid workplace. The pandemic has permanently shifted the way we work, growing the need for tools that empower colleagues. Simply creating a digital version of the physical office was not going to create a motivating workplace.
How do you keep your staff motivated? Do you have any special incentives/schemes that they take part in?
We are proud to call ourselves 'Architects of Change,' whether that is referring to our services or our workplace. As an MSP that encourages businesses to provide staff with the right innovative tools, it's only natural we provide our staff with this too. Our Global Innovation Challenge lets employees brainstorm creative solutions to society's biggest problems. Our staff can work on projects close to their hearts - like addressing healthcare problems and opening the job market up to refugees.
The Great Resignation proves people no longer tolerate toxic work cultures. Employees won't hesitate to leave companies that don't make them feel valued. By creating an environment where you genuinely care for your employees, their loyalty, engagement, and productivity improve. Positive workplaces naturally create staff that are advocates for the business. At Logicalis UK&I, our staff often go the extra mile to provide customers and clients with a positive and fulfilling experience.
We continuously invest in our people. It is a core part of our culture at Logicalis UKI. Everyone receives frequent training and team building activities to ensure high morale. Staff can enjoy time away from their day-to-day routines to focus on creating stronger relationships with their colleagues in a more casual setting. The frequency of these activities promotes clear and effective communication, leading to more inventive ideas and solutions.
How have you managed to stay close to your partners and customers over the past year?
Many of our partnerships have withstood the test of time, still continuing after more than one or two decades. Our partners trust us to continue to innovate no matter the circumstances. Similarly, our customers rely on us to deliver high quality services and solutions despite disruptions.
One way we have been able to ensure this is through Logicalis' Business Continuity Plan, designed to help us controllably navigate through any serious disruptive crises like pandemics. It outlines things like strategies to mitigate impact, communication processes to follow and more. The plan has been designed with our partners and customers in mind, ensuring we can continue to work together to provide immaculate services.
What have been some of the biggest challenges for the channel in the past year in your opinion?
The Great Resignation has really put into perspective how important innovative and engaging working environments are for employee happiness and retention. Channel businesses have had to reinvent their workplaces to increase employee satisfaction whilst also ensuring operations are still running smoothly.
However, the cyber skills gap has continued to be a problem across the channel. According to UK Government research, more UK businesses each have found themselves lacking incident management skills (up from 27 per cent in 2020, to 32 per cent in 2021 and 37 per cent 2022). Since the beginning the pandemic, organisations have experienced a heighted number of attacks due to remote working providing an increased attack surface. The channel needs to focus on recruiting, training, and retraining to help close this skill gap and solidify defences.
What are you most looking forward to in the coming year?
2022 is going to be another year of change for all, - but this time for the better. The widespread rollouts of 5G, increased innovated research into AI and larger focuses on sustainability have created the perfect atmosphere for businesses to create some new and exciting things. We have the perfect opportunity to really build on these technologies and improve customer experience all whilst ensuring innovative solutions are in line with business' sustainability initiatives.
The SMAs are taking place on Thursday 7 July at the Hilton London Bankside. To find out more, click here.