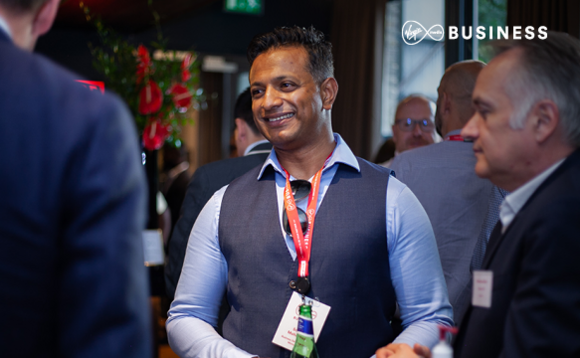 A couple of months ago, I met some of my peers, partners, and colleagues in person at an industry event.
Needless to say, it was long overdue.
After a tumultuous couple of years, it was great to see the channel return to something a little more normal again.
As an industry, we help millions of people connect via hybrid working (with the odd cameo from householder members and pets). However, I loved getting back to seeing people in real life again. And it was also an important reminder that people and partnerships drive our industry.
Which is just as well, as my job as Head of Commercial for Virgin Media O2 Business Wholesale Fixed is about people.
Day-to-day, I'm responsible for the smooth functioning of the commercial, bid, and solution design teams. That includes overseeing partner propositions, deal pricing, solution design and network planning. In short, I get to work with brilliant people across Virgin Media Business to make sure we keep evolving to help our partners better hit their goals.
We know that the channel fundamentally relies on these kinds of partnerships. No man, woman or organisation is an island. We are dependent on one another's success.
What do these partnerships mean in practice? For us, it means providing both the environment and conditions to help each other grow.
Reimagining connectivity
That's why, as a dedicated wholesale business, we're 100% committed to supporting the wider partner connectivity ecosystem. We provide both the infrastructure the UK needs and the flexibility to help others fulfil their unique ambitions.
Of course, these ambitions may have been somewhat in flux these past few years. We know that some partners are in their growth phase. Others are looking to maximise enterprise value for a sale or looking for investment. And some are looking to pivot their business model entirely. Our role is to support our partners' success - in whatever form that takes.
So how do we do that? Firstly, we're going further and faster to upgrade the UK. Virgin Media O2 will spend £10 billion over the next five years, much of which will be spent on programmes to improve our network - and therefore the wholesale infrastructure available to our partners. We're also investing in tools that will improve the buying experience for our partners. Like Smart Planning, a tool that will automate parts of our access planning and core design processes, ultimately improving the pricing we can offer to partners and speeding up the economic process on large projects.
Speaking of large projects, we have plans to extend our network to an additional seven million premises in greenfield areas, making more businesses serviceable on the Virgin Media O2 network.
Looking to the future / Bringing connectivity closer to businesses
With smart infrastructure and the rise of connected devices, the UK will also need more bandwidth. So we're growing our high-capacity services to support our digital future.
In 2021, we started making multi-million-pound investments across our core sites to change the way we deliver our 10Gb services. We're now implementing the next stage of these changes across our regional network locations. The new scalable architecture makes it simpler, quicker and more cost-effective to install and deploy services like 10Gb National Ethernet and optical. We have also started our investment programme into 100Gb services at key data centre locations.
Partnerships also play a crucial part in enabling us to build out our edge computing capabilities, too. Through the Liberty Global group of brands, we're working with AtlasEdge to build out data centre capability, bringing compute power much closer to businesses, and opening up a host of new opportunities and applications within the channel.
Introducing flexibility to the market
But even as we build out our infrastructure, we can't pretend the world in 2022 isn't different from two years ago.
It's no secret that sectors like retail or hospitality have experienced a rough couple of years - or that the UK economy is beginning to go through another period of uncertainty. Many businesses need support. And that means taking on risk.
Meanwhile, the rapid pace of digital transformation means that our partners' end customers don't necessarily want to buy a service in its day-one form for three or five years.
That's why we introduced UltimateFlex in June of last year: a flexible set of contracting tools that
offers partners complete bandwidth flexibility and anytime cancellation as standard for ethernet, internet access and optical high-capacity services.
As part of UltimateFlex, recurring prices for installed services are automatically adjusted to match our new business rates - shifting away from rigid, fixed-length contracts that depreciate in value whenever market prices fall. We've already dropped our prices three times since launch just over a year ago, reducing the cost of thousands of contracts. And because UltimateFlex customers can cancel anytime, we're always committed to keeping our prices competitive.
There's no obligation for partners to pass price changes onto end-customers either - opening up new margin opportunities over time. Some partners have found they can create innovative new contracts by offering solutions with 'burst' bandwidth options, offering cease allowances or experimenting with short or seasonal term durations. Some have been able to reward customer loyalty by passing-on the price reductions. And many have been able to win new business by being more bullish with pricing, since they know their connectivity margins are likely to increase over time.
It's up to our partners to decide on an approach that suits them - not us. Partners should work together to explore how value can be unlocked together: not dictate terms.
Meanwhile, thanks to anytime cancellation, UltimateFlex is already allowing resellers and MSPs in this sector to offer no-risk connectivity contracts with the option to switch off sites without penalty whenever they need to.
In other words, while our network investment is bringing wholesale network infrastructure closer to potential businesses, UltimateFlex is enabling our partners in the channel to build the solutions that they need to win in the changing market.
It comes back to that partnership approach: connectivity does not belong to any one company. You only need to look at the headlines to see that the UK will continue to face challenges over the next few years. But by working together and developing more flexible, innovative solutions, we can create a more connected Britain to tackle them.
This article was funded by Virgin Media Wholesale.