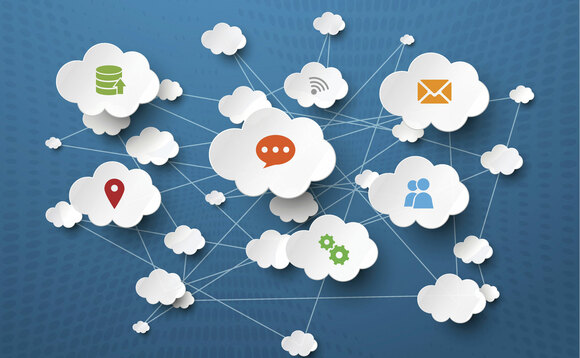 Defining a multicloud
A multicloud consists of more than one cloud service of the same type (public or private), sourced from different vendors, and not interconnected. It differs from a hybrid cloud, which refers to the presence of multiple deployment types (public or private) with some form of integration or orchestration between them.
These two cloud approaches are mutually exclusive, and don't exist simultaneously because the clouds will either be interconnected (hybrid cloud), or not (multicloud).
Customer interest in multicloud
Having multiple cloud deployments, both public and private, is becoming more common across enterprises, as they seek to improve security and performance through an expanded portfolio of environments.
In some cases, enterprises have ended up with multicloud architectures because different business units sought out cloud services to tackle their specific needs, creating disconnected, multiple cloud services. That's a challenging situation, but cloud management and automation tools can deliver greater visibility and oversight across these disparate resources.
More and more though, enterprises are actively pursuing multicloud strategies for increased flexibility. With a multicloud strategy, for example, an organization can choose cloud services from several providers in order to meet specific workload or application requirements. They can pursue best-of-breed tactics to create cloud environments that suit specific business needs, and lower the risks of relying on just one provider with an available, highly-scalable backup in case the primary cloud goes dark.
In addition, to reduce poor response times for cloud users thousands of miles away from a company's headquarters, some workloads can be hosted by regional cloud providers operating closer to where the users are. This solution lets the enterprise maintain high availability, and adhere to data sovereignty laws of the country where that data is located.
The multicloud opportunity for cloud and managed service providers
Red Hat and CRN recently surveyed 150 EMEA decision makers representing organizations from industries including banking and finance, logistics, manufacturing, retail and education. The results showed a clear opportunity for service providers to help businesses with the challenges they are encountering with multicloud realities:
Over 65% reported that their use of multicloud was likely to increase either over the next three years.
75% think managed service providers should provide specialist multicloud skills, enabling them to take a workload specific approach.
With multicloud, service providers can differentiate themselves in a crowded market place and drive revenue from new service offerings. By supporting customers at every stage of their cloud journey, helping them overcome the commercial and technical barriers to cloud adoption, service providers can capitalize on the multicloud opportunity.
Partnering with Red Hat for multicloud
At Red Hat®, we know that open source technologies drive innovation, allowing customers to deliver more and exceed business expectations. By partnering with us, service providers can migrate their own expensive, proprietary virtualization infrastructure, and their customers', to a modern, flexible alternative.
By clearing technical debt and making significant cost savings, re-investment can be made into technologies such as containers and automation, which support customers' multicloud needs.
Red Hat OpenShift® provides an enterprise-ready Kubernetes container platform with full-stack automated operations to manage multicloud deployments. It can be delivered entirely by a service provider, or in collaboration with Red Hat.
Red Hat Ansible® Automation Platform provides a foundation for building and operating a scalable automation system across an organization. By using automation to streamline management and reduce manual tasks in their own organizations, service providers can accelerate service delivery, meet SLAs, and increase profit margins. The same benefits can be offered to customers who deploy automation.
Red Hat's portfolio can be offered as a service in a multicloud environment. With growing customer interest both multicloud environments and consumption based pricing models, the opportunity for service providers is clear.
Join the Red Hat EMEA Certified Cloud and Service Provider (CCSP) partner program
The Red Hat EMEA Certified Cloud and Service Provider (CCSP) partner program certifies cloud and managed service providers to host and resell Red Hat offerings on-demand through multi-tenant, dedicated, and managed models. By offering Red Hat technology to customers as a service, members can align to, and capitalize on, customers' buying programs.
Through the program, members can scale their business and grow profits, building new revenue streams using the technologies customers demand. Red Hat offers partners the guidance, support, and education to develop skills in areas such as multicloud, and remain compliant with Red Hat policies and procedures. Stephen Dixon, Product Manager at UKCloud, a Premier Red Hat CCSP, says:
"We have found that we share a common understanding of a customer's journey to cloud and actively work together in defining services which meet their digital transformation needs; either on-premises, on public cloud, or across a multicloud environment."
We invite you to engage with us to monetize the multicloud opportunity. Join the community of over 400 Red Hat EMEA Certified Cloud and Service Providers, to benefit from new skills capabilities, enhanced enablement and new technology offerings that create revenue, and keep you competitive in the cloud service market.
Learn more about the Red Hat EMEA Certified Cloud and Service Provider partner program.