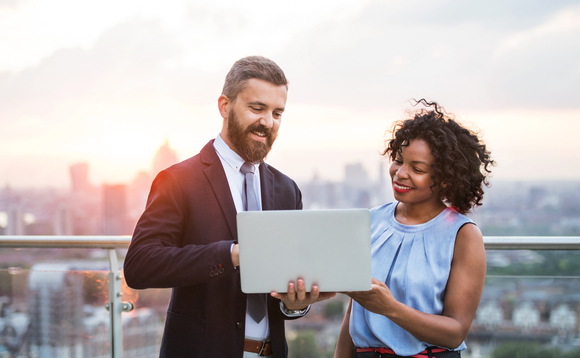 We have entered a new era.
We have adapted and transformed amid constant change and uncertainty.
Businesses continue to face unpredictable challenges - from an increase in cyber-attacks to long-term changes to working patterns.
How can leaders shift from thinking purely about survival towards recovery and growth? How can they make their operating models more flexible and effective?
The answers lie in bold, agile decisions - which depend on organisational agility.
57% of senior IT managers don't feel like their business is agile enough and their infrastructure doesn't allow them to flex up and down with demand, according to our research with Censuswide.
This is where the channel has a critical role to play. It has an opportunity to rethink some traditional ways of working and offer tailored solutions to their customers, who are now expecting more.
This is likely to have a drastic effect on the UK economy.
Digital transformation projects to enable hybrid working, increased digital delivery of services and better use of machine learning and data can grow entire sectors.
In fact, our study with the Centre for Economics and Business Research (Cebr) found that digital change of this kind has the potential to add £236bn to the economy by 2040.
The channel's part in this transformation cannot be understated.
Guiding customers towards game-changing technologies
The pandemic has driven digitalisation to the top of the business agenda.
This is partly because it's driven an explosion in online shopping. Over two billion people worldwide are expected to buy goods and services virtually in 2021, according to Statista.

This accelerated many businesses' digital transformation projects in an effort to improve the customer journey. They achieved progress in months that'd have taken many years before the crisis hit, according to McKinsey.
As we look ahead, digital technology - and the connectivity it rests upon - will only become more important.
Organisations will need to strengthen their networking services and infrastructure to deal with ever-increasing bandwidth requirements - both to meet customer demand and support new hybrid working patterns.
84% of businesses are planning on having a hybrid workforce according to a new study.
Supporting this, however, involves reliable connectivity sitting underneath it. Network interruptions could lead to disruptions to service, siloed employees, inefficiencies, unhappy customers and, ultimately, loss of revenue.
So, what are the connectivity technologies that can help? National Ethernet remains a reliable and cost-effective solution for connecting sites locally or nationally.
With network infrastructure enhancements, it can now be scaled to 10Gbps to support higher bandwidth needs - providing the volume of data transfer and network reliability that organisations need to sustain employee collaboration and deal with spikes in bandwidth demand.
Alternatively, optical High Capacity Services provide an option for high performance point-to-point services with low latency - critical for fast-moving large organisations needing to connect multiple sites without delay.
The appetite is growing. 94% of senior IT managers recognise that investing in digital services will help them bounce back from Covid.
To seize on the opportunity, channel partners should act strategically and point customers towards the right network solutions for their business - but the opportunity is not just about the technology itself.
It could come from offering tailored business models that set end-customers up to behave in more agile ways.
Reinventing business models
The channel's business models have worked well in the past, but after Covid, we have an opportunity to offer end customers exactly what they need without compromise.
Traditionally organisations are offered rigid, long-term contracts at 1-, 3- or 5-year intervals - making it difficult to take risks. In fact, 44% say they're already paying for services they don't need because they are tied into these contracts.
This is likely to impact organisations' ability to recover from Covid-19.
"Continuous business model innovation with agile, open collaboration" will define success after the pandemic, according to EY.
It's no wonder, then, that businesses expect to be able to amend, scale or even cancel their connectivity services - like they can with parts of their IT solution - and be billed responsively.
That's why at Virgin Media O2 Business we're transforming the way we do business with our wholesale partners through UltimateFlex.
We're offering complete contract flexibility as standard for managed Ethernet, Internet Access and High Capacity Services.
This allows our wholesale partners to upgrade, downgrade, move or cancel their contract any time after the first 90 days - without paying an early termination charge.
It leaves partners in a much stronger position in the event of cancellations by end customers. We're effectively removing the credit risk for them.
What's more, the rentals for installed services bought on UltimateFlex are automatically adjusted to be in-line with our latest acquisition rates - meaning our partners will never end up paying more than the market rate.
And our partners aren't being punished for leaving their circuits in the ground untouched after the contract term has ended - paying a bill that's inflated beyond the current going rate.
Instead, they're being rewarded - because as rentals fall over time, they stand to increase their margin with their onward customer.
This also means wholesale partners have a choice: they have an opportunity to pass some of these benefits to end customers should they wish, or simply use these tools to improve their own position.
In either case, it leaves our partners open to building competitive contracts - and possibly take on greater risks - with the insurance policy that their rates will come down over time and they can cancel with us at any time.
Together, this will give the channel the firepower and freedom it needs to help customers take bolder decisions and respond more swiftly to continued disruption.
Agility and the rebound
The businesses that win after Covid-19 will be those that take bold - even radical - decisions to adapt and grow.
As customer experts, our channel partners can play a pivotal role in encouraging this, drawing on propositions like UltimateFlex to build the tailored offers and bespoke contracts that end-customers want and need.
That way, we can turn the challenges ahead into opportunities.
This post was funded by Virgin Media O2 Business Wholesale