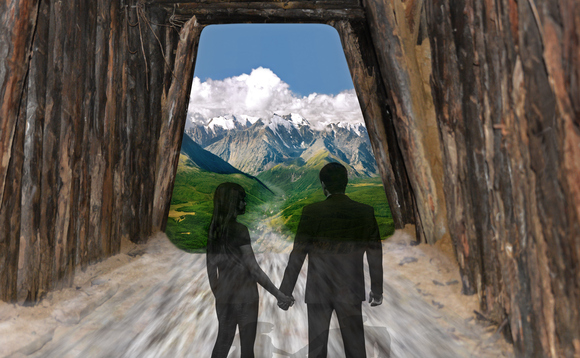 "It is change, continuing change, inevitable change, that is the dominant factor in society today. No sensible decision can be made any longer without taking into account not only the world as it is, but the world as it will be..."
So wrote the great science fiction author Isaac Asimov in 1981. Over 40 years later, we continue to see this philosophy in action - although perhaps not in the ways we expected.
Covid-19 cast a long shadow on our lives. Lockdowns meant many of us were stuck at home, isolated from friends and family. Change seemed limited to an occasional trip to the shops, or a brisk walk around the back garden.
But change was happening. Businesses had to reconfigure, almost overnight, adapting to a world where remote - and then hybrid ­- working was the new normal. Retailers had to ramp up their e-commerce solutions, or risk being left behind by their competitors. Even courts, those bastions of tradition, switched to remote hearings.
Covid forced a reaction. But it also created momentum. Covid-19 accelerated digital change by three years and boosted IT spending by 18% compared to 2019, according to research we conducted with the Centre for Economics and Business Research.
As a result, the world we emerged into in 2022 was very different from the one we left behind in March 2020.
A Brave New World
The channel has played a fundamental role in enabling this change by developing new tools, scaling up solutions and investing in infrastructure.
As a result, digital transformation has seen remote working increase from 1.4 days to 2.3 days a week, opening up employment opportunities for 3.8 million people across the UK.
It has helped optimise critical areas of our public and private sectors by increasing automation.
And it has expedited the rollout of new technology and applications - from more sustainable smart buildings to advanced software analytics.
The last couple of years have taken a heart-wrenching toll. But they have also changed the way we work immeasurably and reminded us what we can accomplish when we set our minds to something.
In fact, the last few years are just the tip of the iceberg. Our report found that continued digital investment could add £236 billion to UK GDP by 2040.
Put simply, we have seen what we can do when the chips are down. Now it's time to ask what we can achieve when we look to the future.
What comes next?
The channel has an opportunity to empower change by providing flexible services that can not only keep pace with the demand for digital transformation but also cater to the changing demands of end-users.
For example, changing hybrid working patterns and the potential for future lockdowns means that, in an ideal world, businesses would be able to flex their bandwidth up and down between sites, exchanges and Data Centres depending on the demand - or even have the option to switch their connections on or off if the need to.
Meanwhile, the demand for innovative solutions is growing. 44 per cent of senior IT Managers want more digital services from their channel partner to support their business over the next 18-24 months, according to research we conducted with Censuswide.
In some cases, this technology is outpacing the traditional underlying connectivity. Transformative technologies like VR and robotics require vast amounts of data and network resilience. This will require more investment in connectivity infrastructure - from fibre to small cells. In other words, advances in connectivity are just as important as innovative applications if we want the UK economy to thrive.
Finally, end customers will need more support from their channel partners in delivering ambitious, technical projects. Our survey found 94 per cent of senior IT managers believe the flexibility of digital services is important over the next 18-24 months, while 39 per cent want more consultancy on the best digital services for their business.
The right tools for the job
That's why, as a wholesale provider to the channel, we wanted to give our partners the freedom to act quickly and decisively. So, we introduced a new contracting model: UltimateFlex.
UltimateFlex abolishes mid-contract cancellation fees and lets our partners scale their bandwidth up or down without being charged. We've seen how quickly the world can turn on a dime. So we're giving our partners the flexibility to adapt if circumstances change - letting them explore exciting new opportunities with their end customers without having to worry about cancelled circuits.
We also benchmark the ongoing costs of circuits against our new business rates. That means if we drop our prices, as we did last month, our existing UltimateFlex customers also see the benefit. And these savings will continue to compound over the length of the contract, opening up new margin opportunities and allowing them to be more aggressive with their acquisition pricing.
Ultimately, we believe this is about creating confidence in connectivity.
The confidence to make bold decisions and advance the connectivity required by exciting new technology.
The confidence to deliver new services and provide the best solutions - without being constrained by changing circumstances and unforeseen risk.
And the confidence to use the last few years as a foundation: to dream bigger, and work towards the kind of future Isaac Asimov envisioned. One that is full of smart cities, advanced robotics and, perhaps, even the odd flying car or two.
James Audley, Head of Wholesale Product, Marketing and Strategy at Virgin Media O2 Business
This post was funded by Virgin Media O2 Business Wholesale